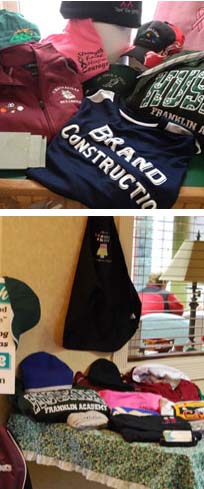 PROMOTIONAL PRODUCTS / NOVELTY ITEMS
SHOW YOUR HARD-WORKING EMPLOYEES THEY MEAN SOMETHING Promotional Products are a cost-effective way of marketing your own business. Most remember where they received the promotional product as a gift and its a fact that most will do business with that company again. Something to think about when 8 out of 10 consumers carry promotional items. And If they dont use it, half of them give it to a friend who will. Now thats Marketing! They make great gifts for your customers • Pens
• Mugs
• Jar grips
• Post-its
• Bags
• Can coolers
• Flashlights
• Lanyards Show your appreciation to your customers. There is no better way to get them back into your business than by sending them home with a gift. People love free stuff and you can provide it to them. Please click here to take a look at the clothing, novelty items we can offer you. To look at the garments, click here. For more information, Call 518-483-5880 Make your name stick in people's minds when they have a constant reminder. Give them a calendar to look at every day or a keychain to carry around. Call 518-483-5880 for fast and affordable prices. There is no job that The Personal Touch can not do.
Over two decades of commercial printing & design experience. Locally owned and operated. You will be amazed in the savings! Call 518-483-5880 now and find out how we can help